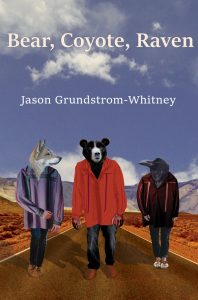 A bear can be a person, though most prefer to be bears. Did a coyote ever lead you to a story?  Have you ever lost yourself in the blue-black eye of a raven?  Imagine these creatures transitioning from people to animals and back, walking along a desert highway dressed in their finest three-piece suits: ribbon shirts, jeans, and moccasins, foraging a city alley for supper, or sharing stories under a starlit sky. If you listen closely, you could learn something from these three magical creatures.
In his first book of poems, Jason Grundstrom-Whitney introduces us to variations of this distinctly American trio. Sometimes Bear gets his paw stuck in a back-street dumpster. Coyote shows people how to trick themselves. Raven travels to the far north to bring back another story.
Bear, Coyote, Raven welcomes the reader into their shape shifting world, where themes of environmental degradation, violence, and technological troubles explore what we have lost and suggest a solution, to connect with the web of being and those blessed in their own right. The poet asks us to engage, to take the time to invest our energy, and to explore this different way of being.
ISBN: 978-0-9988195-5-6
Perfect Bound 6X9 Paperback
120 pages
Order online here
Ebook
ISBN: 978-0-9988195-6-3
Bio: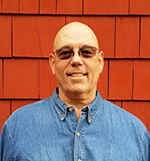 A Bear Clan member of the Passamaquoddy Tribe, Jason Grundstrom-Whitney's poetry has appeared in 3 Nations Anthology: Native, Canadian & New England Writers and in the Underground Writers Association's Anthology of Maine Poets. The band Osha Root recently produced a CD featuring Jason's music and poetry. Jason has spent a lifetime working on Native American Rights, Sexual Assault and Domestic Violence survival, Hospice and end of life care, homeless and environmental issues, and alternative medicine practice. Jason studied with native teachers and many others while he hitch-hiked across America for two and a half years. Jason is a father, grandfather, and husband, and has been in recovery for 37 years.
Advance Praise
In his impressive first book, Bear, Coyote, Raven, Jason Grundstrom-Whitney takes us deep into the mythic.  This is storytelling at its best, poetry that sees so that we may see, songs that invite us into mystery, stories that heal.
—Cheryl Savageau, author Home Country (1992), Dirt Road Home: Poems (1995) nominated for the Pulitzer Prize, and Mother/Land (2006)
Playful, imaginative, respectful, insightful, droll, emotional, shrewd—these poems cast a spell that brings the reader into the very web of earthly—and beyond earthly—being. There are poem-stories in this book to live by and treasure, the old wisdom made new—a beautiful and real achievement.
—Baron Wormser, Maine Poet Laureate 2000-2006, Guggenheim and NEA Fellow
Whitney's work in Bear, Coyote, Raven delves deep into the crevasses of our unconscious selves connecting our human nature to the elements and wild chaos we come from, and can so easily return to. This book is a dance of life, and Whitney's words humble us with their beauty, sensibility, and ancient truth.
—Claire Hersom, author, Drowning: A Poetic Memoir, (Moon Pie Press)
Nothing is more urgently needed while we stand on the precipice of climate disaster than the spirit called forth in Bear, Coyote, Raven.
—Deborah Rosch Eifert, PhD, clinical psychologist, semi-finalist in the 2018 Split Rock Review Chapbook Competition.
Jason Grundstrom-Whitney has spent a lot of time at all kinds of lonely crossroads—and come back full of blues and compassion and knowing, remembering, "a time when we walked together/for a short while."
—Jay Franzel, organizer, The Bookey Readings at Harlow Gallery