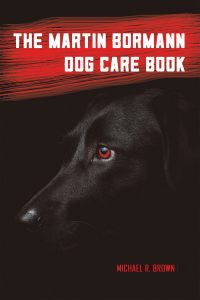 The Martin Bormann Dog Care Book takes its title from a poem written in 1970 when Richard Nixon was president. Michael Brown was finishing his dissertation on the major poets of the Harlem Renaissance while he shared an apartment in Ann Arbor with a young couple who let him sleep on their water bed while they were working in Western Michigan. These events fused when the couple brought home a puppy and a behavioralist dog training book. Reaching back to 1930's Germany and carrying forth into the first Nixon election and the continued mess of the war in Vietnam and racial injustice in the US, that one poem became, like the heart of a crystal, a seed for the agonies of the times then and resurgent political turmoil extending into the US today. The sections of the book evoke public life, finances, color, and war. As with Susquehanna (Ragged Sky, 2003), a number of the poems here are dedicated to or inspired by fellow activists, students, scientists, war veterans, and renowned people of color.
ISBN: 978-0-9988195-2-5
Perfect Bound 6X9 Paperback
130 pages
Order online here
Bio:
When Michael Brown graduated from college in 1962, he moved immediately to Philadelphia and enrolled in the Intern Teaching Program at Temple University. He taught at William Penn High, an all-black high school for girls. No one then was teaching writing, but doing that would make the students employable. When they began writing, Brown began, too. After an additional two years in Bucks County, with his master's degree and a couple of summers teaching at Temple, the University of Michigan enrolled him in a double major in English and Education. Campus politics gave his writing a political turn. His dissertation covered the poets of the Harlem Renaissance, directed by Robert Hayden.
East Texas State University hired him to head a Ph.D. program in the teaching of English. He published his first poems. Through the 1970's he moved to Central (Ohio) State, Western Michigan University, and the University of Illinois at Chicago.
In 1983 Chicago State hired him. He was an exchange professor in South Korea for two years. By 1990 he became involved with the poetry slam, married the best-known performer, and moved with her to Boston. He settled at Mount Ida College, eventually as Director of the Communications Program. Meanwhile, he and his wife started the Boston Poetry Slam at the Cantab, a venue that continues today. Such prominence in slam and poetry brought trips to Europe, exchanges with Irish artists, and coordinating the first Poetry Olympics in Stockholm. Falling Wallendas (1994) was published by Tia Chucha. Susquehanna (Ragged Sky; available as ebook from Resolute Bear Press) and The Man Who Makes Amusement Rides (Hanover) came out in 2003. The Confidence Man (Ragged Sky) in 2006.
In 2007, he and Valerie Lawson moved to Downeast Maine where they take in retired sled dogs. For eight years they published the poetry quarterly Off the Coast and now run Resolute Bear Press. Their front windows look across the Passamaquoddy Bay to St. Andrews, NB. He continues to teach and write. The Martin Bormann Dog Care Book collects political poems from the last 50 years.
Advance Praise
The range and breadth of Michael Brown's poetry is breathtaking. From East St. Louis in 1917 to the modern Middle East, from Old Testament Babylon to Nazi Germany, from acorns to guys wearing aluminum foil hats, from South Boston to Vietnam, from slaves to sharks, and every imaginable subject in between, Brown writes with a clear head, a huge heart, and a steady hand. This collection is a pleasure to read. And read again. And again.
—W. D. Ehrhart
A passionate tenderness as sharp as an obsidian blade, as quiet, as tough, as unrelenting, that cuts always to the beating heart of daily life. Whether in explosive images almost oxymoronic in their intense contrasts to show how surreal our reality has become, or in tiny almost unnoticeable twists of linguistic longing to teach the beauty of what lies just beyond our grasp, Michael Brown's poetry has the capacity to leave us in tears—or gasping for breath.
—Sarah Xerar Murphy
In The Martin Bormann Dog Care Book, Michael Brown's words are phantoms shambling into an unfurnished future. Words that roll off the tongue like fallen acorns in a storm. Brown pins his hopes on the moon's pull, asks us to sip from his dark cup of serenity, to cross broad ground where nothing interrupts our view. Enter his fiery furnace, this kiln where he fires concrete nouns to stack into a foundation. This is no mere dog house, even if it is built out back, on blank acres of fallow pages. This is solid as cherry cough drops straight out the box and as soothing in the back of our throats.
—Joel Dias-Porter