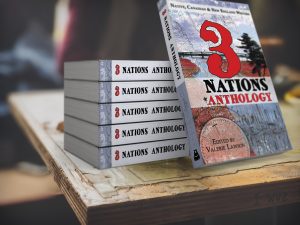 3 Nations Anthology: Native, Canadian & New England Writers, edited by Valerie Lawson from Resolute Bear Press received the 2018 Maine Literary Award for anthology on Thursday night at the Space Gallery in Portland.
The Maine Literary Awards is an annual competition sponsored and coordinated by the Maine Writers & Publishers Alliance. In 2018, 145 books were entered across the award's categories.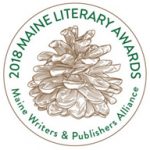 3 Nations Anthology: Native, Canadian & New England Writers focuses on the northeast United States and Atlantic Canada, where people share borders, blood, and heritage. The land is disputed in places, in others the US and Canada share responsibility, and Tribal Lands reside as sovereign nations within their borders. The poems, essays, and short stories in this anthology explore the things that divide, the bridges between, and the intense love of this rugged region the people hold in common.
Lawson says, "The anthology is a conversation across borders. There are no arguments here, no proselytizing, just neighbors writing about relationships, heritage, and the land they share. This book is about building bridges, not walls."
In the coming weeks there will be readings from the anthology at the 14th Annual Books in Boothbay Summer Book Fair, Saturday, July 14; Brick Store Museum, Kennebunk, Thursday, July 19; Beyond the Sea Book Festival, Lincolnville, Saturday, July 21; Cultural Center of Cape Cod, Thursday, August 9, South Yarmouth, MA; Peavey Memorial Library, Eastport, Saturday, August 11; Sunbury Shores Arts & Nature Centre, St. Andrews, NB, Saturday, September 8; Abbe Museum, Bar Harbor, Thursday, September 13; and others as they are scheduled.
More information about 3 Nations Anthology, Resolute Bear Press,  and readings and events can be found at www.resolutebearpress.com or contact Valerie Lawson, valerie.lawson@maine.edu or 207-454-8026.