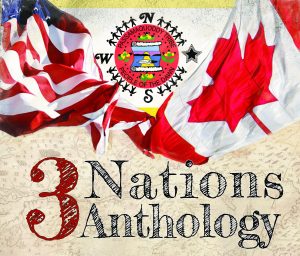 I am excited that submissions are coming in for the 3 Nations Anthology! I have had a lot of computer troubles the last few weeks which has slowed down outreach and calls for submission. My computer was cleaned up, emails changed, and eventually I bought a new computer, and then had to have our router upgraded. Thankfully, everything is back and working now except for a couple of minor glitches synching some files.
Briefly, it felt like the universe was telling me not to do this project. The 3 Nations Anthology was conceived in a much more hopeful time. The increasingly nationalistic tone of the new administration makes this call for dialogue among neighboring nations all the more critical. We must keep communication open.
Last Sunday, the Portland Sun Journal published a poem I wrote after participating in a community project to build a birch bark canoe with Master Passamaquoddy artisan, David Moses Bridges. Over the course of two weeks, David coordinated a group of eager people at all skill levels to build an ocean-going birch bark canoe. It was a monumental undertaking as the cedar, birch bark, and spruce roots were fashioned using ancient methods into a canoe. David worked tirelessly and patiently taught everyone who needed instruction—this is how to form the bark, bend the ribs into place, how to join the pieces at the gunwales, carve the pegs to hold the pieces in place, lash them together with spruce roots, and seal the seams with a mix of pine pitch and bear fat.
The canoe, constructed in The Commons of the Cobscook Community Learning Center, slowly moved from a sheet of bark to a finished work as not just a vessel, but a work of art. It glowed in the center of the room with soft reflected light on the bark and the wood. Read More…